Segmento di mercato
Case unifamiliari
Tipo di costruzione
New Building
Anno di fabbricazione
2021
Posizione
Burlington
Vermont
Stati Uniti
Modern New England Home Features Pura® NFC Siding
Situated in Burlington, Vermont was a 1.5-acre lot, a property that had been owned by a local family for over 70 years, but the land remained undisturbed and never developed. With the Adirondacks visible off in the distance, this property was known for its prime location and fabulous views; the land was important to the family as well as to the local community. In 2018, the owner decided it would be nice to finally build a home on the land. The goal was a modern home that would complement the surrounding wooded backdrop.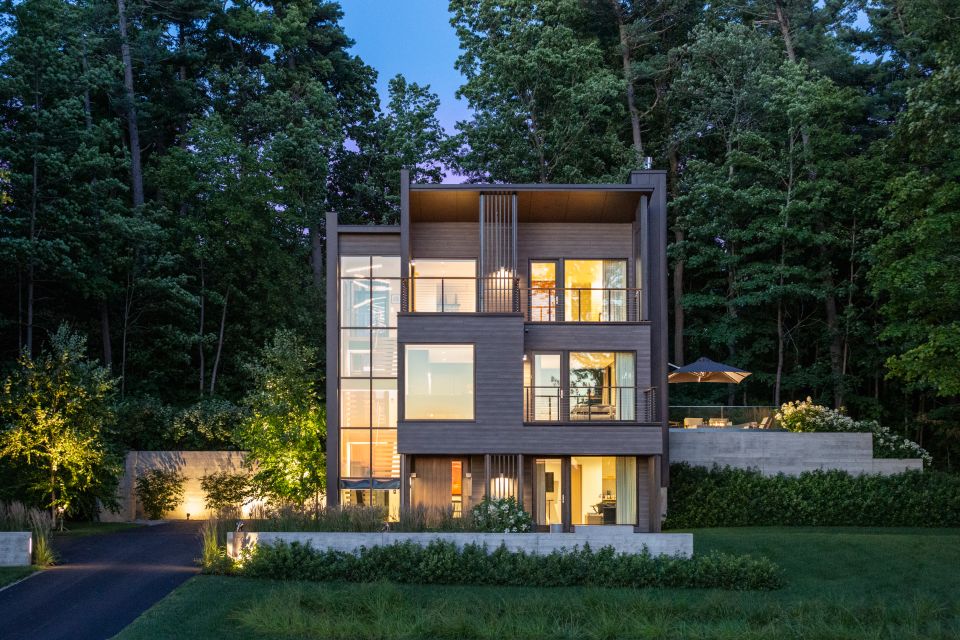 Local architectural firm TruexCullins was selected for the design. Never having used Trespa® brand products before, the team evaluated many options for the façade. Josh Chafe AIA, Associate with TruexCullins, shared that durability, aesthetics, and maintenance were key factors to consider. "Our client wanted a home exterior that wasn't painted and could be cleaned easily."
Ric Santa Maria, owner of Roundtree Construction, said the owner had ultimately seen photographs of Trespa® products and ordered free samples from the Pura® NFC by Trespa range. "The owner found a color that worked well with the wooded backdrop – very organic in its presentation." PU24 Mystic Cedar was selected for the design. Based in nearby Vergennes, Vermont, Roundtree Construction did not have previous experience with Trespa® materials either, so the team had mockups made in preparation of the siding's installation.
Completed in 2021, this wooded oasis is exposed to lots of natural light from the home's many windows, and the Pura® NFC siding pairs nicely with the home's angular metal roof. Both Ric and Josh shared that the owner loves the new home. "The owner is absolutely over the moon about the house. It has met – if not exceeded – all expectations," said Ric. On an eclectic street with various types of architecture featured – mid-century, craftsman, colonial and modern – the homeowner shared that this new house is a perfect fit in the neighborhood.