Ispirazione
Study Hall Lyon
Prodotti usati

Trespa® Meteon®
New York Grey
L25.8.1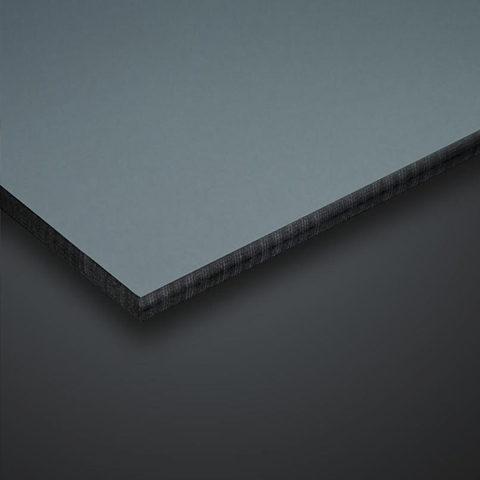 O trova un rivenditore
Progettista
Studio Odile DECQ architectes urbanistes
Segmento di mercato
Istruzione
Tipo di costruzione
Nuovo edificio
Anno di fabbricazione
2017
Posizione
Campus Confluence
69002
Lyon
Francia
A residence hall whose façades reflect a play of dancing light 
Lyon, the second largest university city in France with a student population of no less than 120,000 young men and women, is renowned for its quality of life. In the heart of the city, bordered by the Rhône and Saône rivers, the Confluence is a huge, 150-hectare area, which was traditionally a hive of industrial and port-related activities. Following years of decline, the area is now the site of a major urban project that aims to create a smart and sustainable part of the city that encourages climate-friendly mobility and limits the city's environmental footprint. A city accessible to all, which skilfully forges strong links between the existing and the new. With the additional goal of promoting a sharing culture.
Several schools in Lyon have moved to the Confluence, which has already gained a reputation as a true cultural hub. The recently opened Study Hall offers students an ideal living environment, both in terms of ease of access and the pleasant surroundings. Studio Odile Decq, an internationally respected firm of architects, was responsible for designing this building.
An existing structure, which used to be home to a busy wholesale market, has been extended by adding an open-plan office floor above a high-ceilinged ground floor that includes a mezzanine. The entire structure connects neatly to a towering 5-floor space that houses student accommodation. An underground car park with 16 spaces completes the facility.
Odile Decq particularly appreciates cities like London and New York "where light reflected from buildings of varying heights dances in the streets." In the case of the Confluence in Lyon, she has added a completely new space, playing with the contrast between a transparent lower section (ground floor and first floor) for offices and services, and a denser, more opaque five-floor space for the residence hall. This purposeful contrast is highlighted by the façade designs. In the lower part, the fully glazed wall presents a progressive transformation from light grey at the bottom to a darker grey at the top, in combination with an increasingly compact visual presence.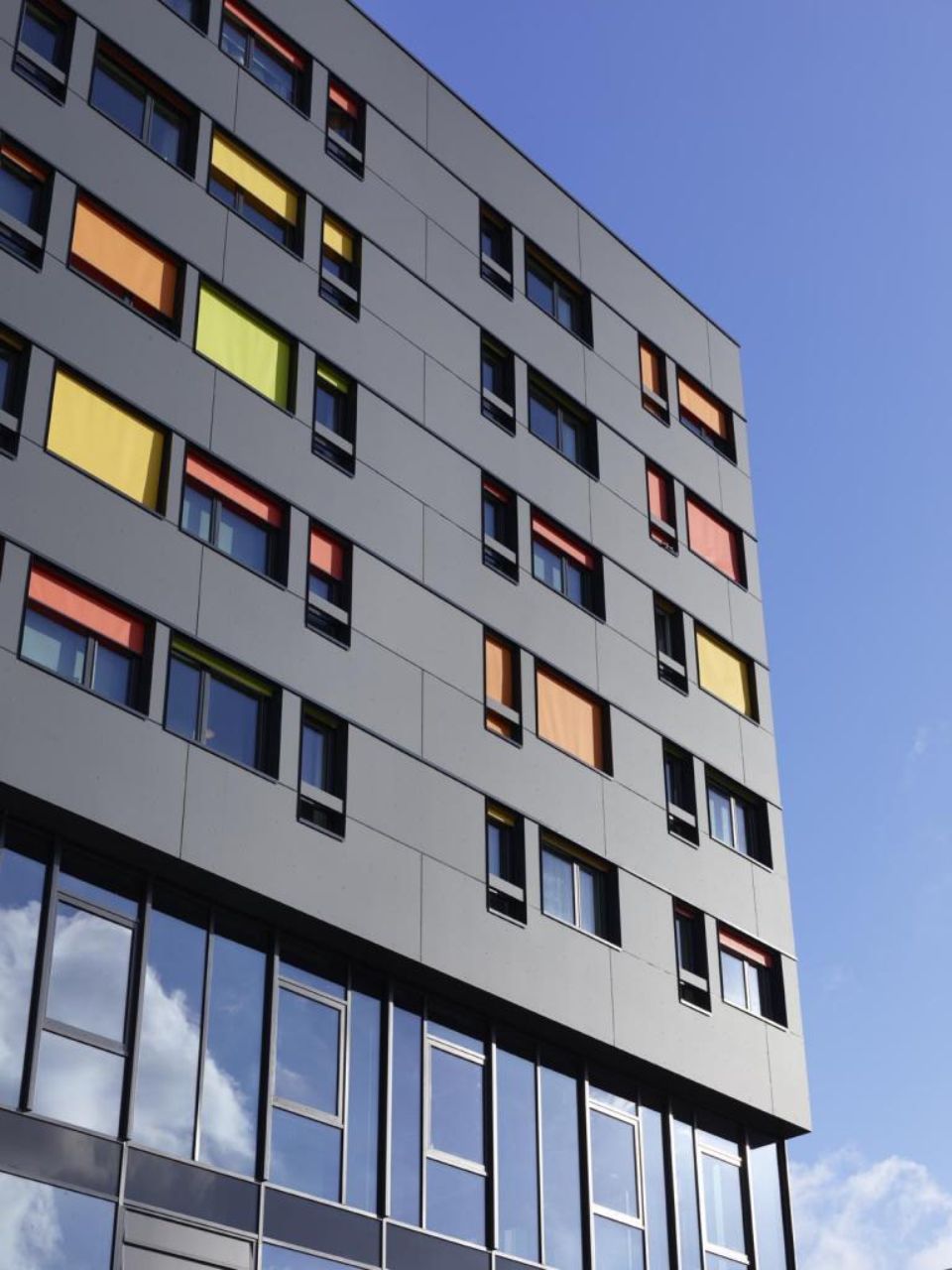 Bright and timeless elegance 
The impressively dimensioned residence hall façade is characterised by an elegant grey. Its north and south façades are clad with high-pressure compact laminate (HPL) panels surrounding recessed window openings of alternating different heights. Its west façade features a large enclosed balcony area on each level, and is also clad with the same panels.
Even though the designers decided to use a Trespa® product at a very early stage of the project, the exact choice of panel (Trespa® Meteon® Lumen® L2581 New York Grey, with the Diffuse "surface" finish) was the result of lengthy and considered assessment, facilitated by the launch of a new range during the project.
Marie Farreaux, Account Manager Façade at Trespa France: "The architect initially wanted a panel with a dark, almost black appearance. In 2016, we arranged a visit to present our new Trespa® Meteon® Lumen collection, an innovative product available with three finishes that allows us to play with light and reflections. Our Diffuse finish, which has a matt appearance, was chosen for its
elegance and the feeling of calm composure that it inspires. The shade that was chosen in the end is an anthracite grey, which darkens to black depending on your perspective and the light conditions."
"Black is no longer intimidating. In fact, it is elegant. 'Lumen', with its different finishes and nuances, makes each project individual and different." - Marie Farreaux, Account Manager Façade at Trespa France
In the end, 2480 square metres of Trespa® Meteon® Lumen panels were used on the building, all with the same finish, colour and thickness. This is one of the first major projects to feature this decor.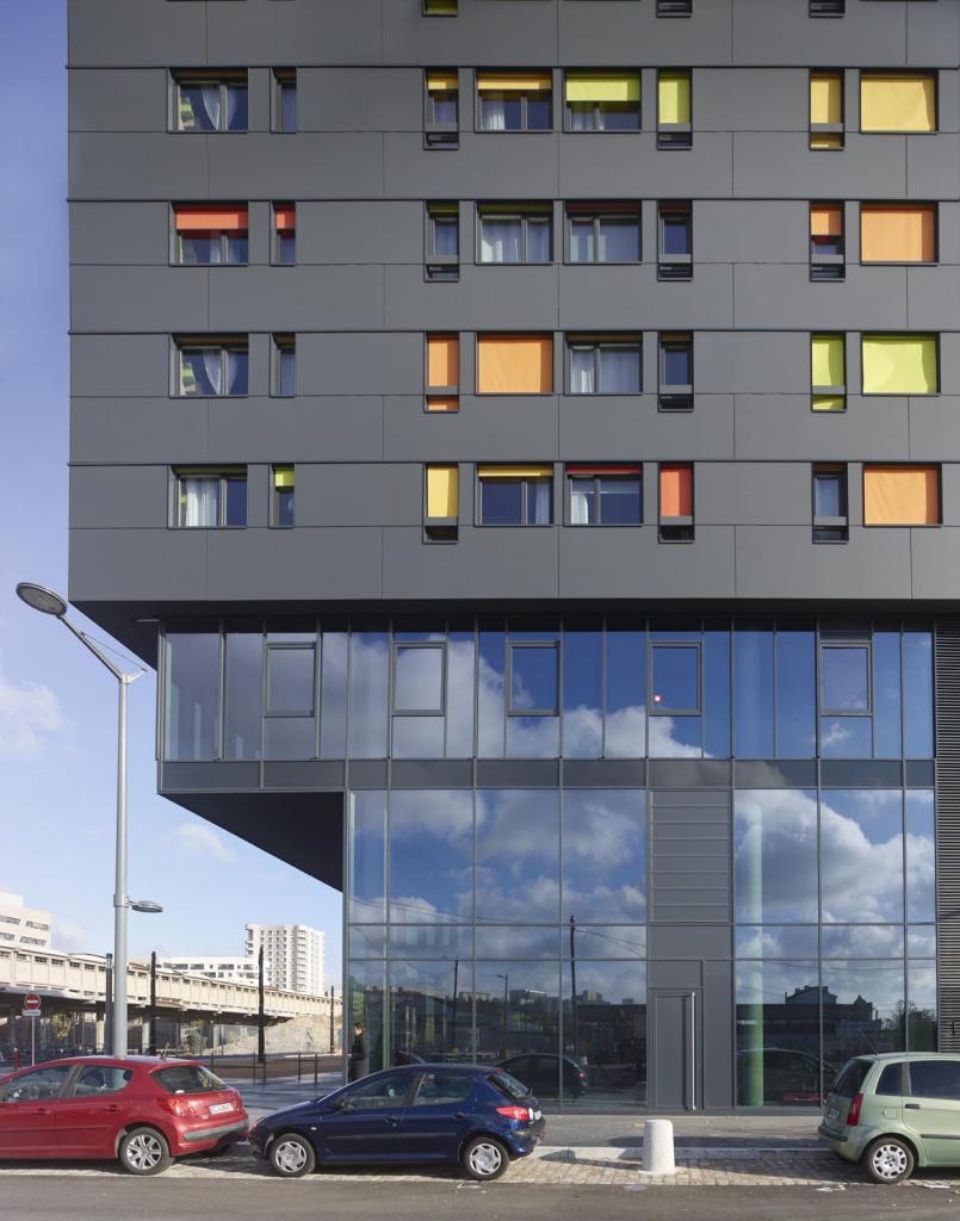 Becoming a landmark 
The building, and its distinctive façade, have become a landmark in the area. The students benefit from the residence hall's ideal location and the high levels of comfort offered by the building's good insulation thanks to the ventilated façade. Overall, the Study Hall embodies what Odile Decq considers to be its trademark: creating buildings in which men and women feel at home, where they can move around freely, meet up with friends, enjoy themselves and live comfortably. Personally committed, as though they were building their own home.