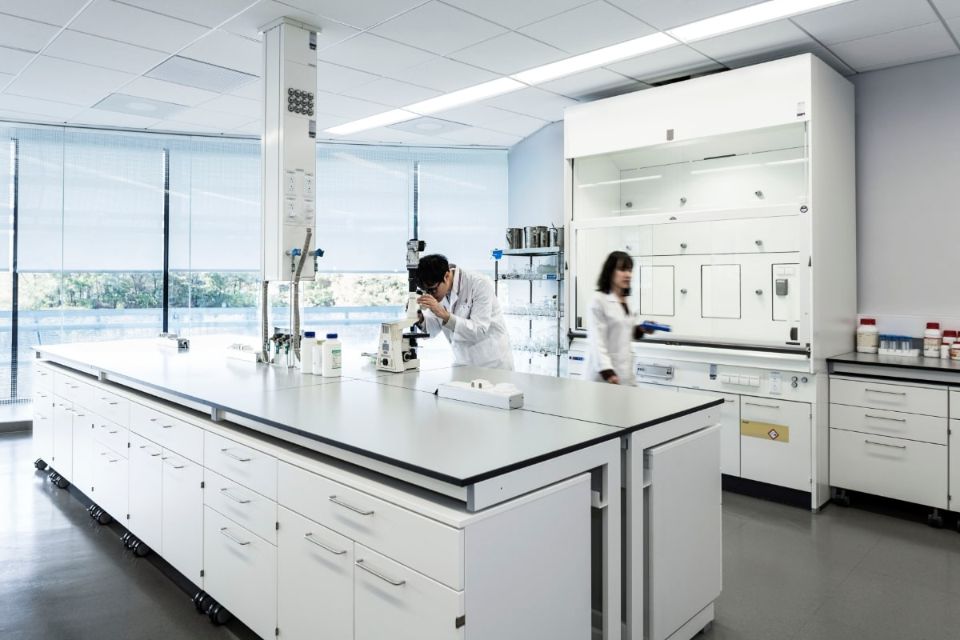 OLTRE 60 ANNI DI RICERCA, TECNOLOGIA E INNOVAZIONE


In Trespa siamo impegnati nel miglioramento degli spazi abitativi e dei paesaggi urbani attraverso soluzioni innovative che conservano la loro bellezza nel tempo. Da oltre 60 anni i prodotti Trespa® vengono utilizzati da architetti e costruttori di tutto il mondo in una grande varietà di edifici, dalle aziende alle strutture sanitarie, dai condomini alle abitazioni private.
Un incontro con due degli esperti del laboratorio del nostro centro di ricerca e sviluppo "Next Material House" (Nemho) che proporranno una dimostrazione di alcuni dei rigorosi test ai quali vengono sottoposti tutti i pannelli Trespa per far sì che l'alta qualità dei prodotti sia garantita in termini di longevità, facilità di pulizia, stabilità del colore e resistenza a condizioni estreme di varia natura.
Per visualizzare la serie dei video Trespa Quality, cliccare sul pulsante qui sotto.I test si concentrano su: resistenza chimica, resistenza a condizioni climatiche estreme ed esposizione ai raggi UV, resistenza meccanica, resistenza al fissaggio, graffiature e urti e stabilità dimensionale dei pannelli Trespa® .
Artificial Weathering Test
Trespa International B.V. is recognised internationally as a premier developer of high-quality panels for exterior cladding, decorative façades, and scientific surface solutions. Trespa focuses on the longevity of its products. Therefore the exterior cladding panels undergo a testing time in extreme weather conditions.
Play video https://vimeo.com/569303309
Resistance to Sulphur Dioxide
Pollutants in the air can degrade the panel properties. To validate these properties, the panels are exposed in Sulphur dioxide and then measured for appearances.
Play video https://vimeo.com/569303431
Resistance to Fixing Test
All Trespa panels are mounted to exterior applications and it is crucial to determine the force required to pull the screw out of a mounted panel.
Play video https://vimeo.com/569303500
Mechanical Strength Test
Trespa products are employed in high stress environments, so it is important to determine the loads a panel can sustain.
Play video https://vimeo.com/569303590
Resistance to Scratching Test
Resistance to scratching is an important test to characterize the quality of the surface finish in TopLab products. Using a diamond tip needle is used to apply an increasing load on the surface of the panel.
Play video https://vimeo.com/569303717
Resistance to Impact by a Large Diameter Ball Test
Trespa panels are used in demanding environments where preventing damage to the surface is critical. Through this test is measured the maximum amount of energy a panel can withstand without being damaged.
Play video https://vimeo.com/569303847
Dimensional Stability at Elevated Temperatures Test
Trespa products are used in a variety of climate conditions and therefore it is important to ensure dimensional stability.
Play video https://vimeo.com/569304023
Lightfastness Xenon ARC
It is crucial for Trespa to verify that the surfaces retain their colour throughout the lifetime of the panel. Therefore panels are exposed to constant dosages of UV light and measured for appearances.
Play video https://vimeo.com/569304388
Appearence Tests
It is important to Trespa that our panels retain their colour throughout their lifetime. Three different methods are used to validate the appearance of the surfaces.
Play video https://vimeo.com/569304511
Chemical Resistance
Trespa panels are used in demanding scientific applications, and therefore testing chemical resistance is especially important.
Play video https://vimeo.com/569304903